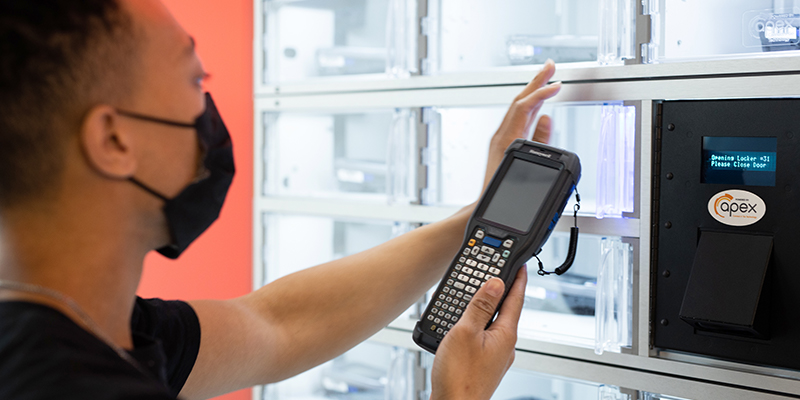 Automated locker systems for mobile device management are easy to implement, yet can have a tremendous impact on productivity, costs and employee morale.
Apex smart lockers: A simple change with big results
Warehouses and distribution centers are operating in a new world. For many, the coronavirus pandemic has increased their volume of business substantially. But at the same time, it's made day-to-day operations more challenging, with ongoing labor shortages, the need for social distancing, and increased sanitation requirements. That's why even more businesses are turning to Apex Mobile Asset Management smart lockers to streamline outdated manual processes in their distribution centers and warehouses.
Here are six ways smart lockers for Mobile Asset Management help your team get the results they need:
1. Smart lockers provide contactless device handoffs and chain of custody
No one knows how long the COVID-19 crisis will continue, but It's safe to say that social distancing measures will be the norm for the foreseeable future.
Apex smart lockers for Mobile Asset Management provide secure, self-serve checkout of devices, so employees don't have to stand in line or take a device that's handed to them. It takes less than 10 seconds for employees to swipe their badge and take their locker, which helps reduce crowds and lines as shifts come and go. 
Some systems also provide time-stamped chain of custody for each device. If an employee is sick, it's easy to check the Apex Cloud software to see which device they used last, as well as others who may have used it afterward. This can minimize the number of people that need to isolate, reducing the potential impact on productivity.
2. Smart lockers optimize mobile device investments
Scanners, RF devices, voice picking equipment, handheld printers and other devices are expensive – and indispensable. They deserve more visibility across your organization, and more accountability from employees who use them.
Managing these enterprise devices with smart lockers reduces a wide range of costs while keeping devices secure. You get cloud-based visibility of who checked out each device and when it's due back. Accountability goes up, so employees are more likely to return devices on time after every shift. There's less damage, loss and hoarding, so you don't need as many spares, which reduces inventory needs by as much as 20 to 30 percent.
Another great option is integrating the Mobile Asset Management solution with your ITSM software. This means that when an employee returns a device and selects "needs repair," the system will automatically open an IT support ticket, saving managers valuable time manually entering these tickets. The solution can also be configured to enable multiple assets to be charged within a single compartment at the same time. Both these options help you optimize the use of your devices, keeping them charged and in good working condition to optimize your mobile devices investments.
3. Smart lockers reveal valuable new data insights
Many operations have seen the dramatic improvements possible using data from WMS systems. But until recently, other areas of the operation were in the dark.
Mobile asset management systems provide valuable data that shines a light on new metrics like asset utilization rates, damage, on-time device returns, employee performance, and other key indicators. Real-time, actionable data makes it possible to follow up on any concerns, so managers can quickly sort out the issue and make needed corrections.
Apex Mobile Asset Management smart lockers help you answer these important questions:
Which assets have gone missing?

Are our devices being used as much as possible?

Which assets get damaged more often?

Which employees need training on asset care/use?

Are assets being checked out/checked in each shift?

Which employees damage the most assets?

Are employees returning the same assets they checked out?

 
Today's warehouse and DC leaders need data visibility that shows trends over weeks, months or years. That makes it possible to manage multiple sites effectively and share reports across your enterprise.
4. Smart lockers for Mobile Asset Management reduce wait times and lost productivity
Never assume that 5 minutes here or there doesn't matter. With real data to check, you'll quickly realize the true cost of wasted minutes when multiplied over the days each employee works every month.
A perfect example: Time spent by key personnel searching for forgotten, lost or hoarded devices. This is a common practice that robs distribution center managers of thousands of hours each year. 
Slow shift starts are another culprit. When arriving employees have to walk to a central location and wait in line for their device, each one is losing 5 to 10 minutes a day. Recently, when a large distribution center introduced self-serve mobile asset management, they saved every associate 25 minutes each week. With roughly 400 employees across three shifts, that meant they recovered more than 8,600 productive hours in the first year alone.
5. Apex smart lockers minimize device repair and replacement costs
You're probably spending six figures a year to keep enough scanners or terminals to go around. But what about the hidden costs? High mobile asset repair and replacement rates can drain your budget and require you to keep many expensive spares on hand.
Modern DCs use Apex mobile device management smart locker systems to lower or eliminate those hidden device costs, while enabling you to reallocate the labor previously spent managing those devices.
How Apex Mobile Asset Management Smart Lockers reduce overall device spend:
Fewer spare mobile devices needed

Lower repair costs and less impact on your IT team

Lower replacement costs

You can refresh devices based on quantities you need, not historical buys

You can relocate extra devices to other areas instead of buying new
6. Apex smart lockers help attract and retain employees
Changing old habits can be a challenge and some employees (and managers!) resist it. But Apex Mobile Asset Management smart lockers are a best practice that have been proven by many of the world's leading distribution centers. Even better, once employees try them, they don't want to go back to slow, manual processes.
After all, no one enjoys waiting in line – especially if it means they're not hitting their productivity goals. It's so much smarter and easier to walk up to a smart locker, scan your badge and quickly take a scanner. Apex smart lockers provide self-serve, contactless check-out that helps employees get on the floor faster, so they can increase their pick rates (and hit their bonus goals.) They're also happier when they're not wasting time searching for a manager to find a device that works.
In short, it's all about giving the right people access to what they need, when and where they need it. And face it: you can't hit your numbers unless they hit theirs. So, it makes sense to do everything you can to help them get more done, every day. 
Getting big results is easier than you think
Apex Mobile Asset Management smart locker solutions offer a simple answer to the problems of slow handheld device distribution, lost and damaged devices, and unproductive time. By implementing this automated solution, you'll know that when your team shows up ready to work, their equipment will be ready and waiting for them, every time.
Give us a call at 800.229.7912 or email us at info@apexsupplychain.com to find out how Apex Mobile Asset Management Solutions help your team get results that matter.