The Pizza Portal's proprietary technology co-developed with Apex Supply Chain Technologies®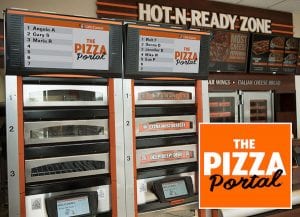 Recently, Little Caesars, home of HOT-N-READY®, gives its patrons a glimpse into the future by streamlining the process of getting a pizza with a new, customer-focused RESERVE-N-READY™ service.  
The service features a breakthrough device called the Pizza Portal™, the first heated, self-service mobile order pick-up station in the quick-service restaurant industry. This device was co-developed by Little Caesars with Apex Supply Chain Technologies®.
The Pizza Portal is designed to make it as convenient as possible for Little Caesars customers to get their pizza by allowing them to skip waiting in line. The RESERVE-N-READY service is scheduled to roll out nationally in 2018 after testing in two markets.
Click on the links below for more on this news.
Little Caesars to expand Reserve-N-Ready platform — Nation's Restaurant News
Little Caesars Launches 'Pizza Portals" To Get Hot Pizza into Your Hands More Quickly — Cheddar