Enhancing productivity and ITSM processes
A few weeks ago we hosted a webinar with our customer Cindy Baughman, Senior Manager of Operations at Ingram Micro's Southern California fulfillment center in Mira Loma. Baughman's team implemented our Mobile Asset Management Solution in 2017, and we wanted to check in and hear about their results since then.
Their campus consists of four buildings with a total of 2.2 million square feet and more than 1,000 associates. And like nearly every warehouse, fulfillment center or distribution center, they faced challenges in managing the high-cost mobile devices their associates use every day: RF devices, scanners, pick-to voice wearables and other mobile devices. For Ingram Micro, those devices cost an average of $1,600, but they were getting left behind or forgotten. And they were seeing a lot of careless damage, as well.
Losing time in line
Previously, Ingram Micro had managed their RF guns and voice-picking wearables in a security cage staffed by a maintenance employee. This kept their devices secure – most of the time.
Associates started every shift by waiting in line at the cage. One by one, they would step up to the window and an attendant would give them the equipment they needed. The attendant would manually enter who took what. Standing in this line took at least five to ten minutes for each employee, every shift. And with 400 associates across all three shifts, it created an expensive bottleneck.
As slow as it was, the system worked okay for first shift, but the problems were more obvious for the second and third shifts, when the cage was often unattended. This made security more haphazard, and it was hard to know who had what device, or if they returned it.
Self-serve productivity, and no bottleneck
Once Ingram Micro installed the new Mobile Asset Management solution, they eliminated the bottleneck at the cage and gained 24/7 visibility of who checked out each device. They placed 14 lockers throughout the facility, which meant 14 associates could check-out their devices at the same time – in as little as 10 seconds.
That meant Ingram Micro saved roughly 25 minutes a week for each associate, or more than 8,600 productive hours a year. This not only keeps the company more profitable, it keeps associates happier too. With a little more time each day, it's easier to meet their picking goals, which are often tied to bonuses.
And the cage attendants? They were put to work in other areas of the operation.
"We get accountability"
To Cindy Baughman, the biggest advantage of their Mobile Asset Management Solution was the ability to quickly check Apex Cloud and track every device to its latest user. It added a new level of accountability that encourages employees to return their devices on time after every shift. It's no small thing, because when they know it's their responsibility, they take better care of it and return it back to the locker when they're done for the day – every time.
Baughman adds, "We've set it up so If an asset doesn't get checked in within 24 hours, the system sends an alert." Managers can follow up with that person and find out what the situation is – often, they simply forgot it. But it also makes it harder for someone to deliberately walk out the door with it.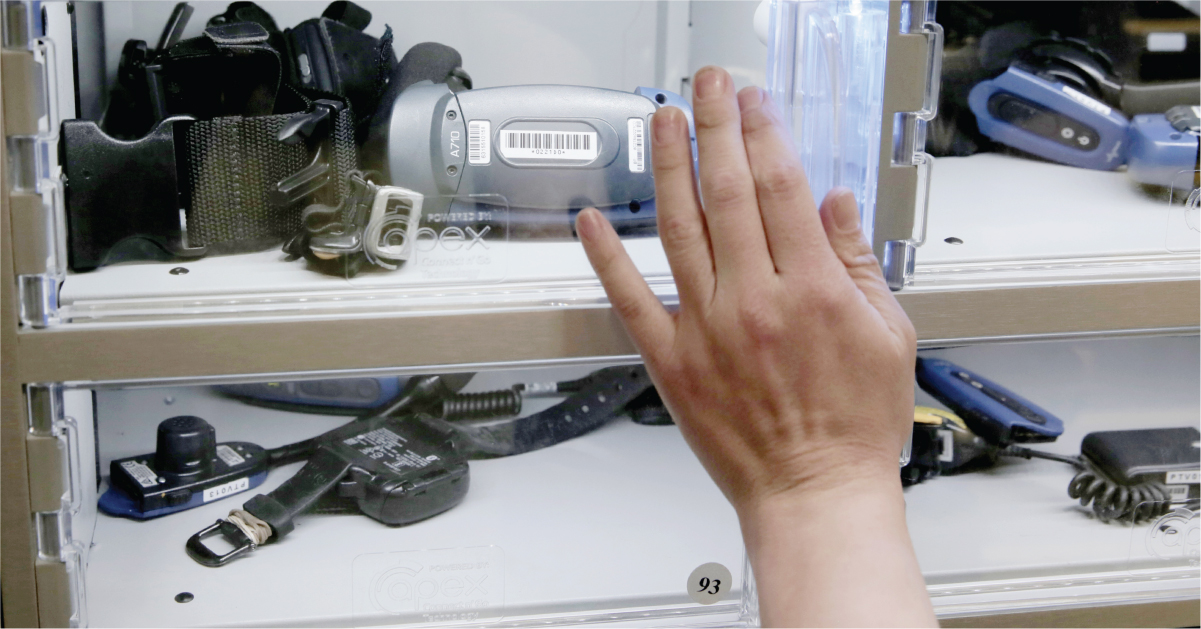 New insights through reports
Baughman also spoke of another unexpected benefit of their Apex solution. By running utilization reports in Apex Cloud, they were able to see what their check-out and check-in patterns were. At one point they were renting additional RF devices for a location that was experiencing increased volume. But by looking at the utilization reports, they discovered 20 to 30 assets that could be transferred from another building, and were able to send the rentals back and eliminate that added expense.
Completing their ITSM integration
Today, all four buildings on the Mira Loma campus are using the asset management locker solution, and they're managing other devices including mobile printers and tablets. Based on this initial success, several other Ingram Micro fulfillment centers across North America have followed suit, and the company is now exploring opportunities to expand the solution globally.
This spring the Mira Loma team took another step to optimize efficiency by working with Apex to integrate their Mobile Asset Management Solution with their ITSM software (ServiceNow). Previously, when an associate checked in a device that wasn't working properly or was damaged, they would fill out a form describing the problem, then their supervisor would take the form and manually enter the information into ServiceNow. It was disruptive and time-consuming, so supervisors would often wait until they had several devices so they could make the best use of their time.
Ingram Micro partnered with Apex to solve the problem. Apex provided an API that enables our Apex Cloud software to communicate with the software, so when an employee checks in a damaged device it automatically creates an incident ticket. This saves time for both supervisors and IT staff, gets the device into the repair queue faster and more reliably, and ensures that Ingram Micro gets the most utility out of all its devices.
Apex worked closely with Ingram Micro's IT team to make its ITSM integration a smooth one for the company. According to Director of Global Innovation Jon Anunson, "Our Mira Loma team is extremely happy with the functionality and believe it's saving them a LOT of time, and may actually make us more efficient with our devices, reducing downtime and decreasing overall fleet cost."
Watch this interview to hear this discussion, or watch their case study see how Ingram Micro made simple changes to get big results with their Mobile Asset Management Solution from Apex.