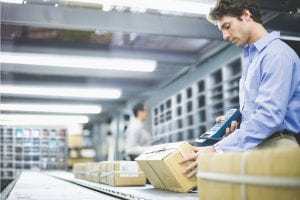 Self-serve, automated solutions are being tapped by companies big and small, across various industries around the world, to yield significant operational efficiencies and savings. Consider how mobile asset management solutions from Apex Supply Chain Technologies® are used by distribution centers to manage scanners, terminals and printers.
Working with the Apex Cloud™ automation platform, Apex smart lockers offer employees 24/7 self-serve device check-out and check-in. Users simply scan their ID or enter their PIN to collect their device. The entire process takes less than 10 seconds.
Managers automatically receive detailed records of who checked out each device and when they returned it. They also get email alerts if a device isn't returned on time or needs repair.
Here are just a few of the benefits customers experience after making this simple change to use self-serve automation in their operations.**
Save Thousands of Annual Labor Hours: The self-serve solution is fast, eliminating the line that forms at shift change when enterprise mobile devices are handled manually. In fact, the time in between an employee clocking in and their first scan drops from an average of 13 minutes to just seconds. By eliminating this shift change friction, employees spend more time on task. This productivity boost adds up across employees, shifts and locations. In a year, our customers recovered an average of 7,000 hours per facility. In reallocated employee wages, this is an average of $175,000.
Create Employee Accountability: Employees are more careful with their devices and end of shift returns increase to nearly 100 percent with this solution. If an employee forgets to do so, managers are notified automatically and can follow up with the employee.
Reduce Device Replacement Costs by 40%: Since each device is tracked to the employee that checked them out, damage, theft and loss are virtually eliminated. Replacement costs plummet an average of 40 percent. The need for spare devices and device repairs also decreases significantly.
Simple Changes Yield Big Results
The path to Industry 4.0 digitalization is simple to start and it yields big results – with Apex. Our self-serve automated solutions eliminate waste and inefficiency while having a measurable bottom-line impact. Click here to learn more.
# # #
**Apex solutions track millions of transactions every day. The results cited in this article are an average based on our proprietary supply chain and industrial customer data.